Information on this website is not intended to replace a one on one relationship with a qualified health care professional and is not intended as medical advice. These statements have not been evaluated by the FDA and this information and the products are not intended to diagnose, treat or cure any disease. You are encouraged to make your own health care decisions based upon your own research of the subject and in partnership with a qualified health care professional.

The GARS™ Test is a panel of established polymorphisms (gene variations) selected from thousands of studies that associate most with hypodopaminergic (low dopamine) traits.

Description of GARS™
The GARS™ Test obtains a DNA sample through a non-invasive cheek swab. Swabbing instructions along with an order form and a return prepaid shipping package are included in each kit. The DNA sample is processed and analyzed in Geneus Health's state-of-the-art, CLIA and CAP certified laboratory. Reporting is 100% confidential. The results yield a report which includes the function of each genetic risk variation, and which RDS variations are found in the individual's assessment.
Some Clinical Benefits of the GARS™ Test
Use of the GARS™ test in the clinical practical practice could reduce doubt, denial and guilt. It can also predict relapse probability and identify treatment options to include as well as options to avoid. The GARS™ test can corroborate family genograms. It can identify severity based relapse and recovery liabilities. And finally, it can be used to personalize restoreGen™ formulations to the individual's polymorphisms and treatment needs.

GARS™ can be used to corroborate family genograms. Through GARS™ testing, personalized restoreGen™ products can be formulated to the individual's specific treatment needs.
Click here to order the GARS™ test kit
Genetic Addiction Risk Score (GARS™)
Is addiction in your genes?
The power of understanding YOU is now in your hands.
What does your DNA say about you?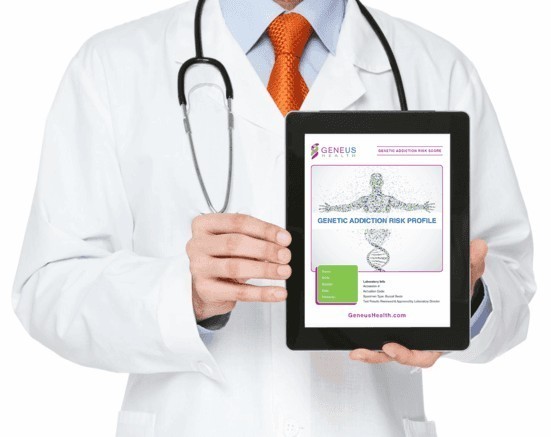 The Genetic Basis of the GARS™ Test
The development of the Genetic Addiction Risk Score (GARS™) for RDS behaviors captured genetic variation in the brain reward cascade (BRC).